Villem Nõgu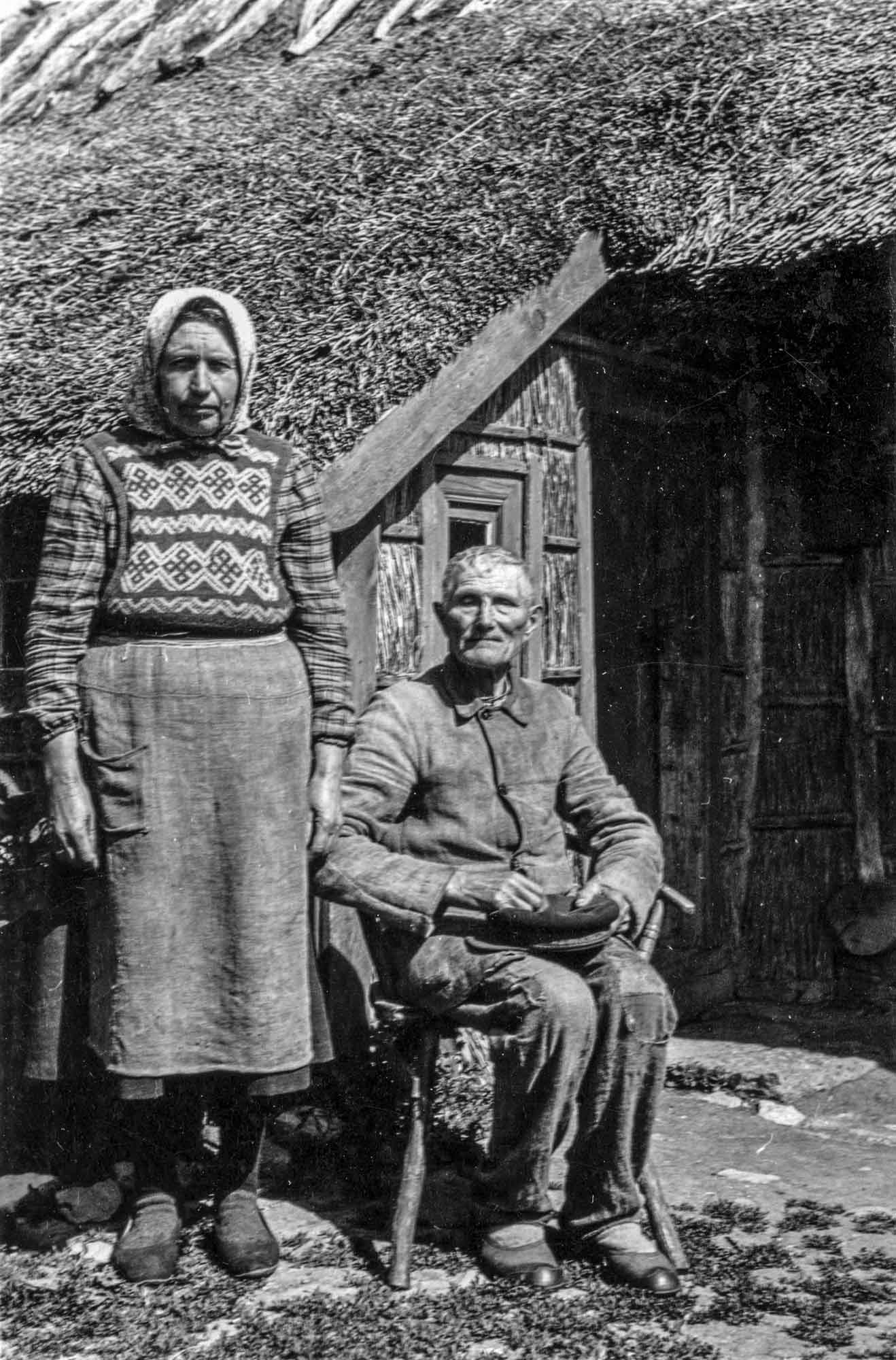 Villem Nõgu with his wife by their house. Photo: H. Tampere 1956. ERA, Foto 2636.
From Villem Nõgu from Ridala village were recorded several soldiers' songs, songs about his life and dance songs. (From the description of the video "Songmakers, singers and instrumentalists"; Rüütel 2014: 28)
We spent half a day at Villem Nõgu's place, but the work was still uncompleted. He knows very many newer songs. Some alliterative songs were also among them. Villem Nõgu speaks in a lively and vivid manner, but it is hard to direct his torrent of speech. He must surely be filmed. By nature, Villem Nõgu is a poet and an artist, who has loved beauty throughout his life. (From the field work diary of O. Kõiva, June 10, 1961; Rüütel 2015: 179)
From Villem Nõgu, a song of transitional form has been recorded – "Mother took the cradle to the meadow", which, according to him, he had heard from an old man. The song consists of parts with totally different origins. The alliterative verses in the song's beginning are based on Miina Härma's song "Childhood of a singer". These are followed by rhymed doggerels in the style of Saaremaa men's songs, the basis of the final verses are local alliterative songs, yet the tune was borrowed from a song "Swing song" ("Brother, dear brother..."), the melody of which had spread with the help of school songbooks. The singer wove together song elements that had been stored in various coffers of his memory, without giving any thought to where they come from and adding parts of his own. The singers of alliterative songs concatenated verses and motifs form various alliterative songs, whereas when making newer songs, people had different sources at their disposal. According to the method of folk song creation, such result is perfectly authentic. (From the chapter "Newer folk songs"; Rüütel 2015: 38)
Songs:
Videos:
Villem Nõgu, born 1879, Ridala village [Pöide parish]. Recorded by O. Kõiva, I. Rüütel, filmed by R. Hansen in 1961.