Juuli Kald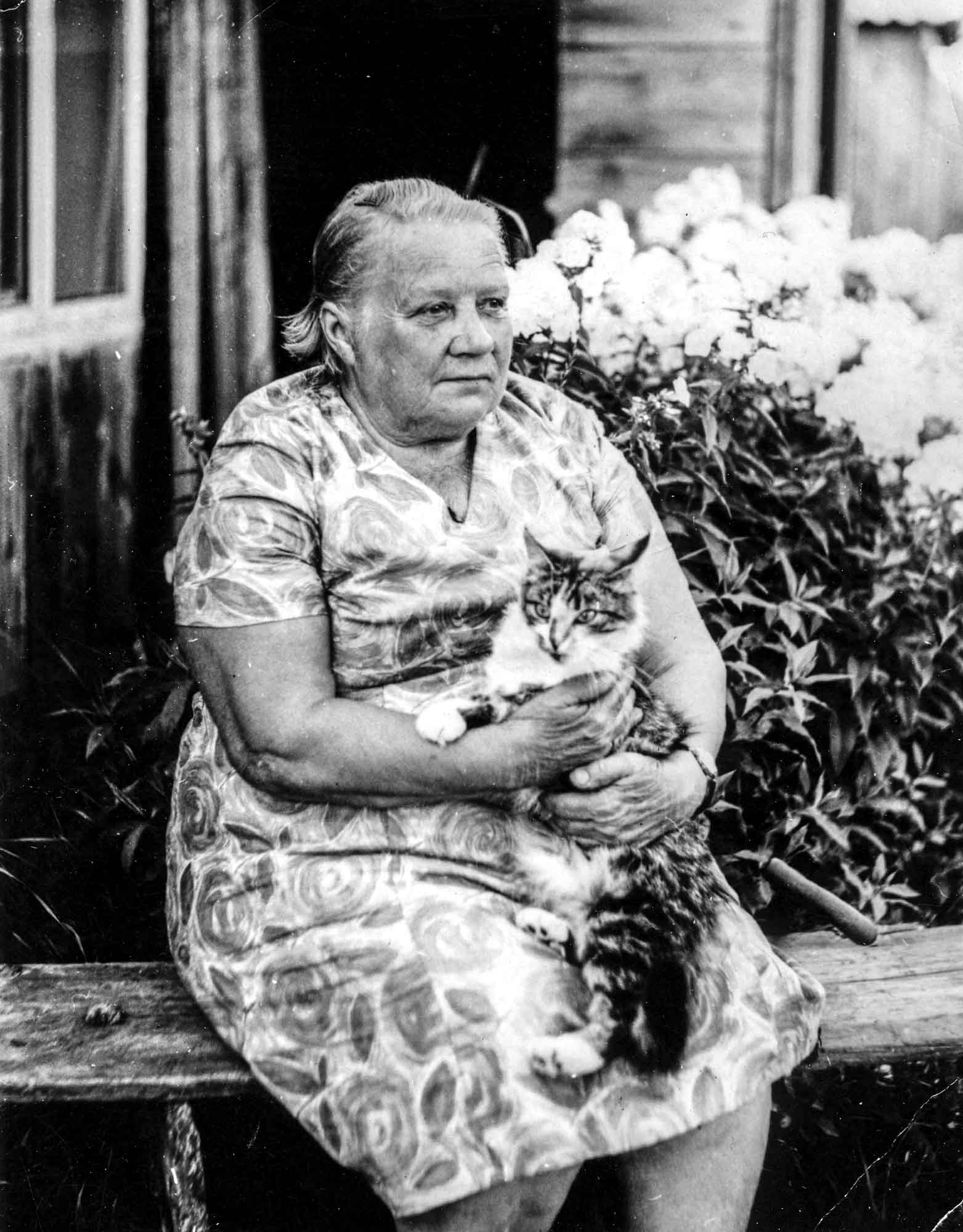 Juuli Kald with her cat. Private collection of I. Rüütel, 1975.
In addition to two longer expeditions, I have been to several shorter trips that were undertaken based on some previously obtained information. Such were the Sõrve trip in 1975 and a visit to Pihtla to see Juuli and Albert Kald during the same year. /---/ Juuli Kald knew many dance songs, soldiers' songs and others and performed them in a high ringing voice. The songs she had mostly brought along from her childhood home in Muhu. (From the chapter "The situations and purposes of collection"; Rüütel 2015: 21)
Three soldiers' songs by Juuli Kald date back to the days of WW I. They are all extremely gloomy-sounding reflections of a young soldier at the "bloodbath" on the battlefield. Their origin is unknown. In the song "Soon comes the time", the soldier laments that his life has been broken, his love destroyed and his body carried to the grave, where no one will shed a single tear. There are additional motifs of no flowers blooming on the soldier's grave and no bell tolling for his funeral in the song "On the battlefield in the far away land". (From the chapter "Songs about historic events and soldiers' songs"; Rüütel 2015: 86–87)
Aunt Juuli was born in Muhu and her dexterous hands could make fine Muhu footwear with durable pigskin soles for all our adult family members. I have never gotten a pair, for aunt Juuli had no children's darbies. But then I got to admire her beautiful collection of spangles, pearls and yarns. /---/. (From A. Länsi's letter to I. Rüütel; Rüütel 2015: 339)
Songs:
Juuli Kald, born 1909, Liiva-Putla village [Püha parish], comes from Soonda village [Muhu parish]. Recorded by I. Rüütel, E. Tampere, O. Kiis in 1975.