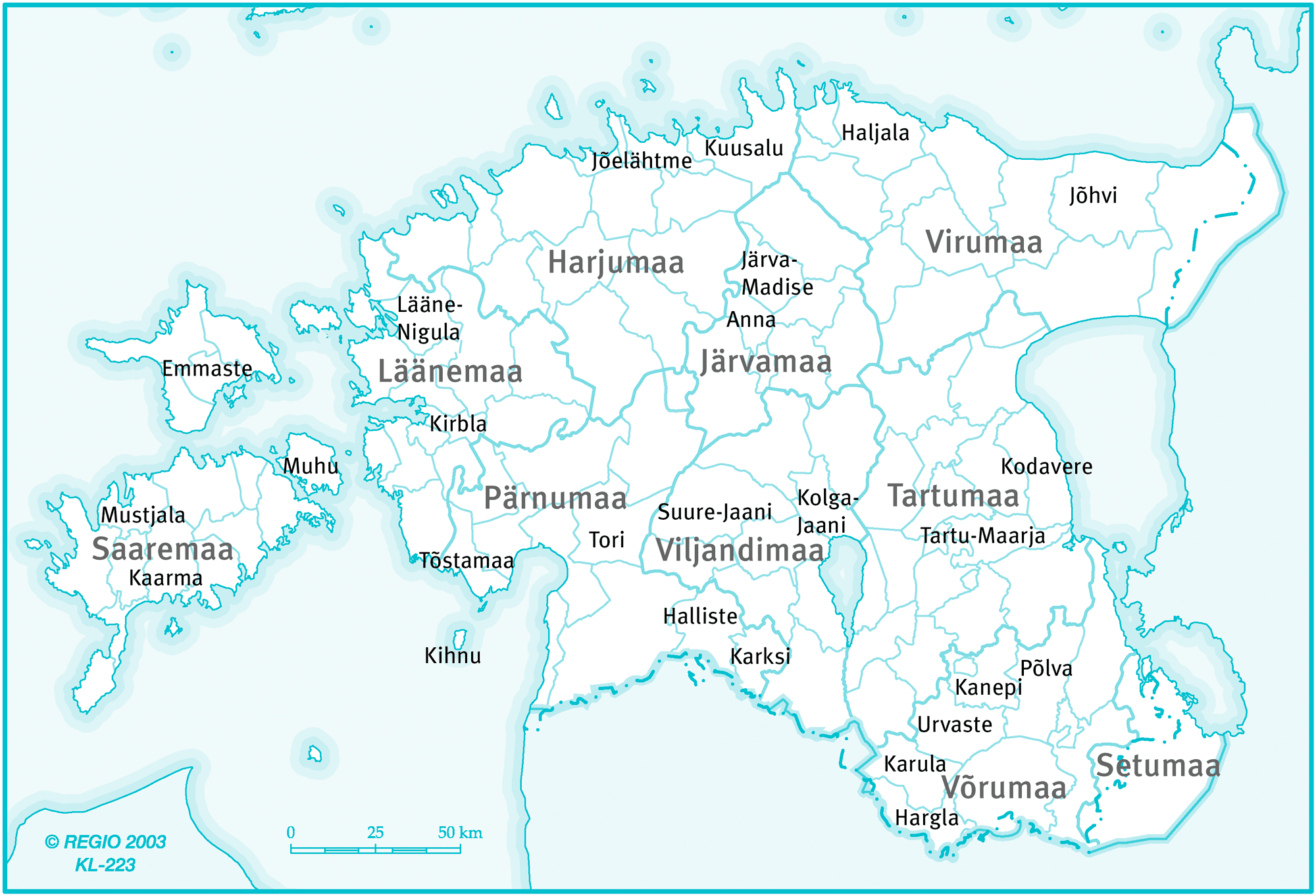 Virumaa
The best known of the singers from the period of sound recordings prior to World War II from County Virumaa, which was particularly rich in the traditions of regilaul singing, was Liina Kaskmann (1873–1944) from the coastal village of Rutja in Haljala Parish. In 1937 the National Radio recorded 34 songs from her onto reportage discs (also referred to as shellac discs). At that time Liina Kaskmann was the mistress of Kangru farm. According to the descriptions made by August Pulst she performed "in an extremely solemn but sure fashion". In the survey taken at the time of the recording Liina stated that her favourite song was "the orphan's song". When asked "where she performed with her songs?" she replied, "At home". Liina Kaskmann performed traditional Haljala songs (piece 82) but she has also created three narrative songs based on the regilaul motifs. In speaking about them she said that these improvisations were very difficult to do and required her to feel from the depths of her soul.
Ruuben Kesler's (1878–1965) pieces on the violin, jew's harp and duct flute (piece 102) were recorded by the National Radio in 1938. Ruuben Kesler lived in the village of Vasavere, Jõhvi Parish in the eastern part of County Virumaa. He was the owner of a large farm and windmill. Ruuben was a multi-talented musician; he made different types of herder's horns and played them, he could read music and played dance tunes as well as patriotic and church songs. He stated: "As soon as I get back from the fields I start playing, it makes my spirit joyful and my body light".
Järvamaa
The changes that took place in the 19th and 20th centuries occurred relatively early in County Järvamaa in central Estonia. As a result, the audio recordings of traditional regilaul are rather scarce. But a good example of innovations in the old traditions at the turn of the previous century was collected from Albert Lauri (1904–1970) from the village of Purdi in Anna Parish. The wedding song (piece 61) was originally recorded by the 1965 expedition from the folklore archives. Albert Lauri had learned the song from his father who used to sing it on the violin. Albert still had his father's original music. His father was a self-taught violinist and he played first violin in a local string ensemble. Albert, who was also an active member of the choral society, in his turn used the regilaul that he had heard at home in a play.
Ottilie Niinemägi (1890–1980), who was the mother of Ottilie Kõiva, one of the compilers of this collection, lived in the village of Nurme in Anna Parish at the time this recoding was made. Olli Niinemäe had attended the girls' school in Paide and as a young woman had done some work for the newspapers. In her later life, thanks to her daughter, who was a professional folklorist, she worked for the folklore archives as a local correspondent. At home Olli Niinemägi used to sing from songbooks and particularly church songs. The song here for bouncing a small child on the knee (piece 32) was one that Olli learned from her husband. Later, right at the time the current recordings were made she started to sing them to her own grandchildren.
It was during the 1965 archive expedition that Lisette Kautlenbach (1890–1968) was visited in the village of Aru in Järva-Madise Parish. The only regilaul the old mistress of Sõstra farm knew was an old swinging "tone" (piece 23) that she used to sing at the swings as the others were swinging.
Harjumaa
In Harjumaa County the older singing traditions survived longest in continuous use in the coastal parishes. The majority of folk music from Harjumaa represented in this edition was recorded in the studio of the National Radio between 1936–38 onto the reportage discs. Mari Kilu, Jakob Kilström, Hindrek Tamm and Liisu Tamp performed also on the tours that August Pulst from Estonian Theatre and Music Museum organized in the 1920's and 1930's to (re)introduce folk music.
The women singers performing the traditions of Kuusalu Parish in this edition come from the furthest villages of Juminda peninsula. Miina Lambot (1868–1956) lived in the village of Juminda. Eighteen regilaul songs were recorded from her for the National Radio in 1938 (pieces 24, 30, 42, 43, 58). A number of these were sung along with Anna Paalberg. Miina had learned the songs from her mother and other singers in the neighbourhood around her home. In her youth the regilaul singing traditions were still alive and vibrant. According to the survey she filled out at the time the recordings were made, the most important times for singing were at weddings and during the harvest. In particular she loved to sing wedding and swinging songs.
Anna Paalberg (1874–1948) from the village of Tapurla was also known as a good singer of regilaul (pieces 24, 29, 42, 43). She had learned her songs from all the singers in her home village but in particular from her uncle's wife, Mai Kravtsov. It was Mai, too, who taught her midwifery. Anna Paalberg was also one of the characters in a production of old wedding customs which was staged in 1937 in local festival. Anna's daughter-in-law remembers her as a cheerful woman ready to sing and dance at any time even in her old age.
Jaagup Kilström (1864–1945) was a fisherman from Leesi village on the Juminda peninsula. He was also the bell ringer at the church and the man who worked the organ bellows. As a boy he played the reed pipe. When he was 20 he made a bagpipe and learned how to play it. He learned the pieces he played from the older bagpipe players living in his neighbourhood. He was recorded in 1913 and 1932 onto wax cylinders and in 1936 eleven pieces were recorded from him at the National Radio onto the reportage discs (piece 105). According to the notes made by August Pulst, Jakob was a serious individual of few words. He did not care too much about how the audience received him during performances (in those days the bagpipe was one of the main drawing cards on tours), often he would just say: "I'll play some more!"
Kristjan Kiviloo (1893–1967) was born and raised in the village of Viinistu, which was situated east of Juminda on Pärispea peninsula. This was also part of Kuusalu Parish. After World War II he moved to the neighbouring village of Turbuneeme. It was there that the folklorists on a collecting expedition in 1962 recorded two regilaul (piece 63) as well as Estonian and Finnish newer rhymed songs. Kristjan was from the Manitski clan, well known as a family of singers. Right from birth he had bad eyesight and as a result was not able to work outdoors, but that gave him more time for singing and he had an excellent singing voice – in his youth his singing could be heard from Viinistu across the water all the way to Mohni Island.
Mari Kilu (1851–1947) lived in Randvere village just outside Tallinn in Jõelähtme Parish. Her little thatch-roofed cottage was right by the sea. Mari Kilu made her living mainly through fishing: "My hands have felt plenty of lightning and pain rowing on the sea during storms." Mari had started singing as soon as she was old enough to climb onto the village swing. As a young girl she was the leader of all the local young people when it came to singing and playing. Later on tour with folk musicians Mari was a tireless singer despite her old age and she was the first one to twirl about on the dance floor at the dance parties after the performances. The National Radio recorded five regilaul from her in 1936, two of which were swinging songs that she sung in the old fashioned way along with Liisu Tamp (piece 22) and two other were song games (pieces 90, 96). Liisu Tamp (1871–1950) at the time of the recording lived near Mari Kilu in the village of Randvere. According to the descriptions made by August Pulst Liisu had a more peaceful temperament; she fished and did farm work like all the coastal women did.
Hindrek Tamm (1877–1946) lived in the community of Nehatu in the interior of Jõelähtme Parish. In addition to farmwork he was also the postman and a longtime member of the community council. As a twelve-year old he had already started to write down the words to songs in a notebook that he had got especially for that purpose. For example, he had collected regilaul from the men from the surrounding communities as they stopped by the inn on their way home from Tallinn. In 1937 the National Radio recorded 11 regilaul from him (pieces 16, 73, 76, 86). He had collected 36 of these but he had hundreds of newer rhymed songs. Hindrek had also composed a few dozen rhymed songs himself.
Läänemaa
Läänemaa County is represented in this collection only by musicians. Mart Kaasen (1869–1955) played the bowed harp, a typical instrument of western Estonia, at weddings (piece 107). At the time he's playing was recorded in 1936 at the National Radio he was the owner of the farm where he was born in the village of Kirimäe in Lääne-Nigula Parish. Mart Kaasen was one of the most conscientious and well-to-do farmers in the area. He was a good carpenter and made also bowed harps. He was a member of the community council and had also served as its chairman. Shy in his temperament, reflective and a man of few words, he was nevertheless an energetic and dynamic musician.
Jaan Rand (1878–1944) from the village of Kirbla in Kirbla Parish played the psaltery, jew's harp and accordion. His playing was recorded by the National Radio in 1937 (piece 106). Jaan knew how to make psalteries as well as jew's harps and in addition to farmwork he also cobbled, made saddles and cabinets. He had learned to play from his father and the other musicians in the vicinity. Jaan was a well-known and much sought after accordion player. He always carried the jew's harp around with him in his pocket.
Aleksander Maaker (1890–1968) belongs to the Maaker clan of the village of Muda in Emmaste Parish on the island of Hiiumaa. His father, Priidu Maaker, was a fine bagpipe player, and his uncle Juhan Maaker became famous all over Estonia as Juss the Piper. A seaman and later a farmer, Aleksander Maaker could play many instruments, the jew's harp, the psaltery, the bowed harp, and the accordion. He learned to play the bagpipe at the age of 30. Unfortunately, in 1938 at the time of the recordings at the National Radio the bag of his bagpipe was broken and "Juss the Piper's Waltz Tune" (piece 104) was played using only the finger pipe. Later, on the collective farm Aleksander was in charge of the granaries. He was the leader of the fire brigade and had several other duties. Even at the age of 70 he was still playing the bagpipe at birthdays and other parties.
Saaremaa
Maria Koert's (1880–1970) home, Mustjala Parish in the western part of Saaremaa was among the last areas where regilaul was still found. When she got married she went with her husband to the tiny farm of Silla in the village of Ninase. On a collecting expedition in 1958 Herbert and Erna Tampere interviewed Maria Koert quite extensively. They described her as a nimble, very warmhearted and outspoken individual. Her songs were being recorded as late as 1961 during the Saaremaa expedition of the folklore archives (pieces 40, 44). Altogether 22 regilaul have been preserved from Maria. However, she especially loved the rhymed songs she had learned from her parents as a child, which at the time of the collecting expeditions were already disappearing from traditional use.
Helmi Ots (1898–1976) was from Epi farm in village of Muratsi, Kaarma Parish. Before the Second World War the farm was quite a prosperous and hard-working one. Helmi was a lively, cheerful and talkative woman who loved company. Her husband and son both played the accordion and the young people would gather at her farm for dance parties. The older and newer songs that Helmi sang were recorded on the archive's 1960 expedition to Muratsi village (piece 12). Later she moved to the town of Kuressaare where her husband had already gone to live earlier to escape having to join the collective farm.
Pauline Vapper (1904–2004) represents the singing traditions of Muhu island, which lies between Saaremaa and the mainland. After her marriage Pauline's home was in the village of Suuremõisa. She had seven children and was a farm wife. During the period of collective farms she earned her living by weaving. Liina sang in the choir and taught old Muhu dances to the local folk dance group. She considered her father Madis Saarik, who was an outstanding singer and dancer, to have been her teacher. Many of the dozens of regilaul that were recorded from her in fact belong to a traditionally male repertoire. Thanks to her excellent memory and faculty for observation Liina knew many newer rhymed songs, dances, games as well as older customs. Her fame as an expert on traditions was established though her recordings for Estonian Radio in 1958 (pieces 11, 70). Later she was repeatedly recorded and in 1975 she organized a performance of song games that was filmed.
Pärnumaa
The old wedding traditions survived vigorously right up to the decades following the Second World War on Kihnu Island, a tiny island just 12 kilometres off the coast of the mainland in the Gulf of Riga. During the 1937 recording sessions made by the National Radio two women of Kihnu were included.
Liis Alas (1850–1939) was very knowledgeable about traditions. She was also a valued consultant for folklore and dialect researchers. Liis' husband had died young and Liis had gone to live with her brother. Later until her 70's, when a small house was built for her in the village of Lemsi, she lived as an itinerant artisan. Liis was remembered as a quick and tireless worker. The singer had an extraordinary sense of humour, as the people of Kihnu recall her: "spry, high-spirited and alert like a live coal." However, when she was working by herself she also loved to sing sad orphan songs and one of her favourites was the song about "Seeking the Brush" (piece 78). Liis was well-known as a lead singer at weddings. An important time for singing was at the sewing bees to make items for the bridal chest, the so-called Thursday night "sitting up". Liis' repertoire was large and varied. Nearly 100 songs have been collected from her but only 9 were made into sound recordings. Five of these she sang with Reet Sutt.
Reet Sutt (1877–?) came from a singing clan in the village of Lemsi. After she got married she went to Tara farm in the village of Linaküla. Very little of Reet's repertoire has been collected (piece 20) but August Pulst has described her as a lively and nimble woman with a smile on her face. In her old age she went to live with her son in the Audru Parish.
Anna Köster (1899–1989) lived her whole life in the village of Lemsi on Kihnu. When she was young, the village girls sang mainly newer folk songs as they did their needlework together. Anna Köster composed verses in this style in which she describes the natural beauty of the vicinity of her home. In temperament Anni was reflective and shy. In the period following World War II regilaul songs have been collected from her many times. Among the 49 different songs there are numerous wedding songs as well as charms for household chores and children's songs from her family tradition (piece 28).
Old wedding customs were preserved for an exceptionally long time in Tõstamaa Parish of County Pärnumaa. The tradition of singers singing against each other was still common at weddings in the 1930's and, for example, even in 1963 wedding guests would insist that Liina Irdt sing old wedding songs.
Hendrik Jantson (1861–1941) was called in the vicinity around his home as "our own true singer". He was an outstanding singer at weddings and had an excellent memory as well as a good ability to improvise. He had learned the songs from the wedding singers in his area and had been the singer at a wedding for the first time at the age of 20. By profession Hendrik Jantson was a tailor, pedlar and shopkeeper. The National Radio has recorded him on two occasions, the second time in 1938 with Liisu Orik against whom he had sung at weddings (piece 45).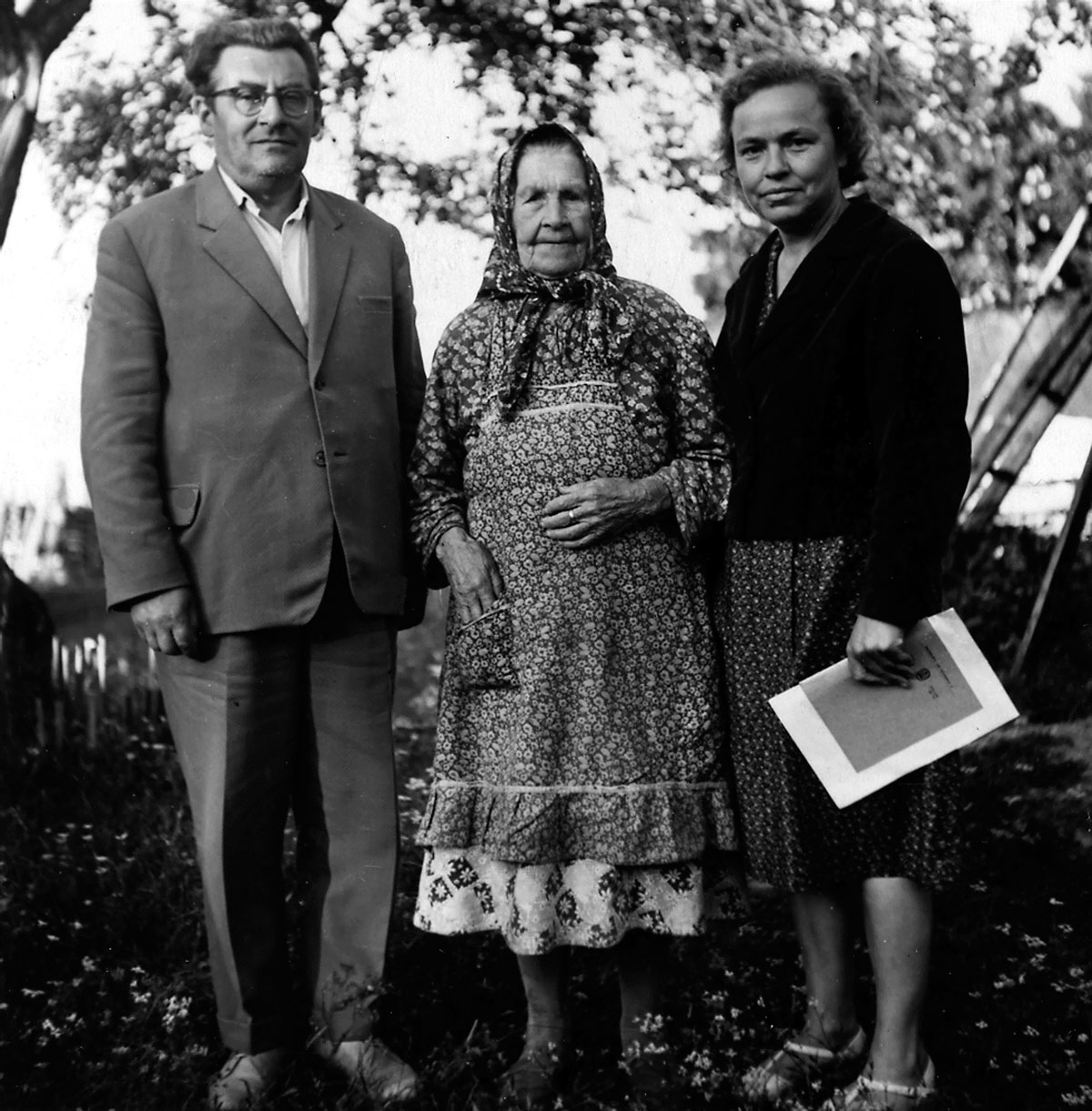 Liisu Orik (1873–1970) from the village of Alu was also recorded much later during the archive's 1964 and 1965 expeditions when she was already over 90. She had learned her large and varied repertoire of songs from her parents but also from many other older singers. In addition to singing at weddings she also sang in the church choir. The versions of the regilaul that she sang in 1938 are noticeably different from those she sang in 1964, which demonstrates her ability to adapt to new situations and improvise (pieces 17, 45, 55, 69, 77). Even during the last recording session with her, Liisu was alert and cheerful. She still did rather heavy housework, took care of her grandchildren and recalled many regilaul that she had not performed for the folklore collectors before.
Liina Irdt (1890–1966) was mistress of Lauri farm in the village of Tõhela. Hendrik Jantson had sung at her wedding. Liina, whose father had to travel from place to place because of his carpentry work, became the sole female wedding singer in Tõhela after her marriage. Her songs have been recorded during the 1964 and 1965 collecting expeditions of the folklore archives. At that time, over the age of 70, Liina was still spry in her movements and emotional in her speech. As far as regilaul is concerned she sang primarily wedding songs (piece 46) but she also knew many round dances and other newer folk songs.
Liisa Kümmel (1888–1964) was from the village of Leetva in Suure-Jaani Parish. It was here, mainly from her parents, where she learned her songs and stories, for she was also a talented story teller. In the 1960's when Liisa was living in the village of Ore, which is in Tori Parish, 147 songs and 218 stories in multiple recordings were recorded from her (pieces 13, 19, 41, 65, 92, 94). Among Liisa's songs there are spells and charms, children's songs and old song games. She had learned her regilaul from her father and a number of them in fact belong to the traditionally male repertoire (piece 65). Liisa knew quite a lot of newer rhymed songs and also created many songs and poems of her own that combine many stylistic features of folk songs as well literary works.
August Pulst was the one who over the course of his tours with folk musicians brought wider fame to the music men of Tori Parish where he himself originally came from. Mihkel Toom (1873–1958) was one of the most famous of Tori's wedding musicians. He started to learn the violin at the age of six. At the age of 18 he was already playing at weddings, building bees and christenings. The most free time to play at festivities he had was in the final decade of the 19th century just before he got married. August Pulst has described Mihkel Toom's lively playing: "Standing up he stamped the rhythm with his foot. At times he would place his foot up on a bench or chair and with a pipe in his mouth would put his bow into motion so that his violin would wail out, his head would be rocking and his pipe would be bobbing up and down." Mihkel's grandfather had also been a wedding musician, while his father played the buckhorn.
Mihkel Toom was recorded by the National Radio with another violin player Mart Männimets (1872–1948) from the village of Mannare in Tori Parish (pieces 108, 109). Mart was very musical and was able to play harmony by ear to the playing of others. The two men aroused the enthusiasm of even professionals in the audience with their playing. Mart was a well-known wedding musician in Tori. In addition to the violin he also played the clarinet and accordion. His brother and father were also musicians.
Mihkel Tiitus (1899–1979) from the village of Rätsepa (formerly Puista) in Tori Parish was recorded playing pieces on the traditional herder's horn during the 1965 collecting expeditions of the folklore archives (piece 101). He had learned to make these instruments and play them at the age of seven. In the summer he normally had a horn soaking. He would usually play trumpet calls to the folks and the children at home. Mihkel Tiitus had taken part in the war of independence. He had studied to become a farmer and had gone to Denmark to gain experience. This very knowledgeable farmer was branded a kulak during the period of collectivization. Nevertheless after his forced exile Mihkel returned to his home farm in 1960 and restored the old homestead, which had suffered a lot of damage. He became well-known as a keen naturalist and bird watcher.
Musicians from Halliste and Karksi represent the historical Mulgimaa region that lies in the Southern Estonian cultural area. The folklorist Selma Lätt (1909–1969) is not only one of the collectors of the material in this set but is also one of the performers. When this collection was being prepared she recorded charms and children's game songs that she had learned as a child from her mother in Halliste (pieces 15, 33, 34). Selma Lätt was born in the village of Morna in the Karksi Parish. Later she lived in various places in the Halliste and Paistu Parishes where her parents rented land. In 1929 she entered the University of Tartu and as of 1933 she worked in the Estonian Folklore Archives (after the war known as the Department of Folklore at the Museum of Literature) where she was known primarily as a researcher of wedding and calender customs. She was the editor of works on a variety of different areas of folklore.
At the time these recordings were made in 1961 Jaak Kõdar (1888–1976) lived at Tedremäe farm in the community of Abja in the Halliste Parish where he had just recently moved to from the Karksi Parish. He played the psaltery using the old-fashioned method of covering the strings. His instrument had a strong sound and his playing was lively. Twenty three psaltery pieces were recorded from him (piece 112). He also played in the Abja village ensemble which was recorded on the same 1961 expedition.
The last carriers of the regilaul singing traditions in the once very rich region of Mulgimaa were the singers of Karksi Parish recorded in the 1960's. Mari Sarv (1884–1977) was a singer as well as a collector of folk traditions. She began sending the notes that she made to the Estonian Folklore Archives after she had seen an appeal in the newspaper in 1930 and became one of the archive's best correspondents. Mari Sarv learned her songs in her youth when she lived at home with her family, who were farm hands on the Karksi estate. There were lots of children and young people there. They sang as they tended the herds, they held many dance parties, and they listened to old women singing the older songs at the swing and the midsummer bonfires. Mari studied to be an artisan. She married Anton Sarv and lived in the town of Nuia. Mari Sarv's songs have been recorded on many occasions starting in 1935 onto wax cylinders and later onto records. Later in the 1960's and 1970's here songs were recorded on tape (pieces 26, 59, 93). Her singing style was unusually slow and full of embellishments. Her speech was slow and thoughtful as well.
Greete Jents (1884–1985) was born in the community of Karksi in a family of farm hands. She worked as a field hand and cook in the area near her home as well as further, including among other places, St. Petersburg. At the time of these recordings in the 1960's she lived in Nuia. Greete had a lively temperament and as a young girl she was an enthusiastic dancer. She knew many of the rhymed songs popular in those days. Mari Sarv let the archives know about Greete Jents' ability to sing regilaul. She had written that of the three sisters it was Greete who had inherited her mother's singing talent. In the 1960's and 1970's approximately 25 different regilaul were recorded from her on numerous occasions (pieces 6, 59, 81). When the two of them sang together it was Mari Sarv who sang the chorus.
Kadri Kukk (1893–1976) was an exceptional singer among all the regilaul singer left in the twentieth century. Her repertoire of regilaul was extremely large and she was constantly singing the songs in the creative manner typical of the carriers of oral traditions, even though the only place she sang was at home. She had learned her songs from her mother and grandmother while doing needlework. Kadri Kukk explained that her mother had taught her all the lessons of life through singing. The singer was born in the Sepatare cottage of Muriku farm in the village of Aniste. She was twice married and had ten children. Her first husband died in the war and her second husband was forced to leave at the time when the collective farms were being established. Kadri, too, refused to join the collective farm and ended up living alone in a small cottage far from any settled areas. In her later life she lived with her youngest son in the village of Sürgavere. The first regilaul were recorded from Kadri in 1921 but starting at the beginning of the 1960's she was visited repeatedly and approximately 80 different songs were recorded from her (pieces 47, 60, 84). The collectors have described how completely she would be carried away by the contents of the songs. This can be heard in the recordings, despite the fact that her manner of performing the songs was shy and introspective in keeping with her natural temperament.
At the time these recordings were made in 1960 and 1971 Marie Helimets (1891–1975) lived in the village of Mäeküla in Karksi Parish. Marie was originally from Tarvastu Parish. She studied in the town of Viljandi and had worked in various places in Estonia before her marriage. After becoming acquainted with the work of folklore collectors, Marie became a correspondent of the archives. Rhymed folk songs, which she herself loved to sing, were in the first place in the materials she sent to the archives. Marie also knew a number of regilaul she had heard from her mother and grandmother. These had melodies that were not typical of Karksi and they presumably reflected the traditions of Tarvastu Parish (pieces 9, 18).
Eleena Animägi (1900–1993) was known as a performer and composer of newer songs. Of the older traditions the expeditions of the folklore archives only recorded St. Catherine's day songs and herder's calls from her (piece 4). On her mother's side of the family there were many good singers. Her father played the violin. In talking about singing Marie recalled the long years she spent as a herder when the herders would sing already early in the morning as they took the herd out to pasture in order to keep awake. She often played the violin and psaltery with her husband and sang at "parties, public parks, in the ruins of castles, village parties" and other places.
Viljandimaa
The majority of singers representing the Viljandimaa County come from its northeast corner, Kolga-Jaani Parish on the north shore of Lake Võrtsjärv. Marie Sepp (1862–1943) was born and lived in the community of Soosaare. She learned her rich and varied repertoire of songs from her mother and mother-in-law but even more so from her husband's grandmother, Purtse Rõõt, an old singer and the village midwife. She named weddings and building bees as the places where there was singing and her favourite songs were wedding songs and lullabies. After having recorded 17 regilaul at the National Radio in 1937 (pieces 8, 21, 25, 57, 79), the talented Marie Sepp with her good memory began to write down old traditions, which she sent to the Music Museum. She wrote poetry and composed songs for birthdays.
Kadri Asu's (1870–?) home was in the community of Uue-Võidu in Kolga-Jaani Parish. All of Kadri Asu's female relatives were good singers and her uncle played the buckhorn. In 1937 the National Radio made recordings of 14 regilaul from her (pieces 2, 71, 72, 85). In the collection survey she answered that she considered singing in the choir to be important and stated that her favourite songs were the newer folk songs. August Pulst described her as a lively and cheerful woman quick in her speech. Kadri talked about her days as a herder when she with her eight or nine animals would communicate with other herders, who were half a kilometre away, by singing herder calls either with happy or sad tunes (piece 2).
Juuli Ott (1870–1944) was from the village of Odiste, Kolga-Jaani Parish. At the age of eighteen she moved to Tallinn. Juuli had received a rather good education as she had attended the village and parish school for seven winters. In Tallinn she worked as a seamstress. There had been quite a lot of singers in the area of her home. Her father played the horn, jew's harp and violin. Juuli had learned to play the violin and also knew a few regilaul songs. She took part in the folk music tours and in 1936 the National Radio recorded 5 songs (piece 80) and 3 violin pieces from her.
Liidia Kampus (1898–1983) was a native of the village of Leie in Kolga-Jaani. Because she had not been to school anywhere else nor had she spent any great length of time away from her village, at the time these recordings were made in 1961 she was the best dialect speaker in her village. Liidia Kampus sang a dozen or so newer songs onto the tapes including a few village songs composed on the spot as well as a couple of regilaul (piece 14). The tradition of composing village songs was very strong and survived quite a long time in Leie. When people were gathered together there was always singing and Liide was a good singer. Her family earned their living as share-croppers and she raised three children.
Marta Vist (1898–1986) from the Suure-Jaani Parish was recorded during the 1961 expeditions of the Literary Museum (piece 1). Marta had already been a regular correspondent for the archives. The majority of her contributions were rhymed folk songs that she had learned from her mother, including round games and dance songs. Ingrid Rüütel has described Marta's home, where the members of the expedition were graciously received, as being extraordinarily clean and very urban. At the time of the recordings Marta Vist lived near Navesti, where she and her husband had gotten farm land in 1922. In 1949 when the collective farm was established there, Marta took some courses and became a livestock specialist and farm director. Later as a pensioner she went back to live in her place of birth in Suure-Jaani.
Tartumaa
Anna Lindvere (1878–1955), who came from Kodavere Parish in Northern Tartumaa, was first and foremost known as a story teller but she was also a good singer. Her father Kaarel Kurs (Kiissa Kaelu) was an expert singer, violinist and story teller from the village of Sääritsa in the community of Ranna. Anna became famous because of the linguist Lauri Kettunen who, as a university student studying the Kodavere dialect in 1909 discovered in Anna an exceptionally good dialect speaker. He stayed with the Kurs family for an extended period and afterward took Anna to perform in Helsinki. In 1938 the National Radio recorded 30 pieces from her (pieces 3, 36, 74, 87). In addition to regilaul and some spells and charms she also performed a couple of folk variants of hymns. At the time she was recorded she was already married and living in the town of Mustvee. She was a spirited woman full of temperament, she was a vender at the market, sang in a choir and performed in plays.
Joosep Kotkas (1885–1962) was from Pastiku farm in the community of Kavastu, Tartu-Maarja Parish. He had attended school in Tartu and had also for a while learned a vocation in the workshops of Zimmermann's Musical Instruments in Riga. In 1936 when the National Radio recorded four psaltery pieces from him he was living in Tallinn and worked in the railway. Joosep Kotkas' psaltery was a long one with a strong bass, his playing was resonant and full of nuance (piece 111). Joosep also performed in August Pulst's folk music concerts and later accompanied folk dance groups on the psaltery.
Musically the region of southern Tartumaa County and Võrumaa County can be split into three. The nucleus of the western part are Otepää and Sangaste Parishes in southern Tartumaa County, and Urvaste and Karula Parishes as well as the western part of Kanepi Parish in Võrumaa County. The eastern part comprises Võnnu Parish in southern Tartumaa County, and Põlva and Räpina Parishes in Võrumaa County. The region around Hargla and Rõuge Parishes form yet another quite distinctive area – the so-called Mõniste region.
Helene Kukk (1894–1969) was living in Tallinn at the time the recordings were made but she was born at Uniku farm in the village of Mäeküla in Sangaste Parish. She had learned older herder and swinging songs as well as very many newer rhymed songs of Sangaste from her mother (pieces 5, 27, 97, 98). It was her grandchild, Tõnu Rüütel, who in 1961 first sent songs written down from Helene to the archives. Helene later continued writing down the songs, riddles, and stories she still remembered from her youth. Her songs were recorded in 1962 and 1967.
Võrumaa
Hella Keem (1915–1997), a well-known linguist and specialist in the Võru dialect, performed the songs of Kanepi for this collection. She was from the village of Vaabina in Urvaste Parish. She began her studies at the University of Tartu in 1936, where her long career as a collector of dialect material started. Hella Keem was an outstanding collector as she was able to establish a particularly close and heartfelt relationship with her informants. The songs recorded in 1966 in the studios of Estonian Radio during the preparation for this edition were learned from the excellent dialect and folklore informants of Kanepi and Põlva Parishes. During a collecting expedition in 1937 to the village of Karste in the community of Kooraste Hella Keem as a scholarship holder from the Academic Mother Language Association visited Miina Leht (1874–?) and Ann Ismael (1862–1940). Both song texts presented here (pieces 64, 66) are from the material collected from these women.
Oskar Visnapuu (1907–1972) from the village of Krootuse in Kanepi Parish was visited during the expeditions of the fall of 1965 when this anthology was being prepared. Oskar was also well-known in the area as a musician and teller of funny stories. He himself accompanied the pieces he played on the leaf instrument and on a chord psaltery (piece 113). Oskar had made himself a leaf instrument from some birch bark so he could play it in the winter as well. When he was young the usual material for making leaf instruments were aspen leaves.
In 1966 Aino Strutzkin from Estonian Radio recorded a village ensemble in Kanepi. The members of the ensemble were August Müürsepp (1900–1970), Osvald Viin (1896–1978), Kindlus Viin (b. 1931) and August Tina (1896–1989). Kindlus was Osvald's son and all the older men were kinsmen. At the time these recordings were made, all four men lived in different places – in the villages of Kellaküla, Mõnsi and Jõksi and in the town of Antsla. They played together usually at birthdays and weddings. All the men came from musical clans and most of them could play a number of instruments (August Tina had also conducted the student mandola orchestras at three schools). Already in their youth the men had played in the village band, which had a dozen or so members. August Müürsepp had learned the sonorous Wedding Polka included in this collection (piece 115) as a boy in Kanepi Parish.
Otto Hiiop (1865–1950) was born in Viljandimaa in the community of Patküla. However, he went to school in the community of Vaabina in Urvaste Parish, where he principally lived. Later he was to have a small farm there too. As a herder boy Otto Hiiop fashioned his first violin and by the time he was sixteen he was already a wedding musician. He had also organised a six-member orchestra consisting of violins and accordions. In 1937 the National Radio recorded Otto Hiiop playing with another violinist from Urvaste Parish, Kristjan Joakit (1863–1942), who was born in the community of Vana-Antsla and lived in the town of Antsla (piece 110). Kristjan had also made his first violin as a herder boy. Later he could still play the herder's horn and the buckhorn. Kristjan had been a farmer but after he moved to town he became a cobbler.
Helmi Vill's (1904–1973) birthplace was in the village of Mõisamäe in the community of Vana-Antsla, Karula Parish. It is here that she learned the regilaul songs from her (paternal) grandmother Triina Hermann, who was a well-known wedding singer. Altogether Helmi knew 15 different songs. Her daughter Ene wrote them down and submitted them to the archives in 1956. In 1957 and 1965 her songs were recorded (pieces 48, 68, 91, 95). At that time she was mistress at a farm in the village of Säre in Urvaste Parish. She raised five children. The folklore collectors have described Helmi as a terribly shy woman. The old regilaul had to have been particularly dear to Helmi because, even though Triina Hermann's other grandchildren had learned songs from their grandmother, none of the others were able to remember nearly as many complete variants of the regilaul songs as she did.
Jukk Akermann (?–1922) was recorded playing the buckhorn on the phonograph by the great Finnish collector Armas Otto Väisänen on his first collecting expedition to Estonia in 1912. Jukk lived on Käomäe farm in the village of Oeküla in Karula Parish. Jukk's cowherd's horn had only three holes but he played 14 pieces on it for Väisänen (piece 99). He and his wife also sang a couple of regilaul as well as quite a number of newer folksongs. He and his son played a duct flute that Väisänen had with him. According to Jukk's son-in-low he was a large, thickset man. On longer trips he always had the buckhorn with him and his playing even entranced the Latvian members of his audiences.
It was in 1957 that Minna Kokk (1892–1971), a very knowledgeable person about old customs in Hargla Parish, was visited for the first time in the village of Mõniste by one of the expeditions from the folklore archives. Her songs were also recorded in 1965 (pieces 67, 83). Minna loved her songs and in her own words could sing "millions" of rhymed folksongs and explained how she was constantly singing as she tended the herds. She was a bit reluctant, however, to sing the regilaul songs she had learned from her mother to the collectors – she did not feel that the tunes were pretty enough. She had witnessed the singing of wedding songs when she was a girl and when she sang these during the recording session she would turn her body from side to side with her hands on her hips as had been the custom in Mõniste. Minna had lived in poverty. However, the talkative woman, who had a passion for reading, worked for the local papers. After her first contact with the folklorists she started to write down the many songs and stories she had in her memory and sent them to the archives.
Julius Paas (1882–1966) was one of the ten children of Hipp Paas the mistress of Tämbälse farm and one of the famous singers of Hargla Parish in the Mõniste region. All of Hipp's children were good singers. Julius inherited his father's farm and was a successful farmer. He considered it extremely important to provide a good education for his three children. An optimistic outlook on life and good spirits helped him survive the years of exile as a deportee in Siberia. In 1956 Julius was allowed to return with his wife to his birthplace at Tämbälse farm. It was here that he was paid a visit by an expedition from the folklore archives in 1957. The 14 regilaul he had learned from Hipp were recorded in 1965 (pieces 38, 49).
August Teppo (1875–1959) from the village of Loosu in Põlva Parish was the most famous Estonian accordion maker of all time. He had even built close to 200 instruments. Their construction was based on Hohner's accordions. The sound as well as the body of Teppo's accordions is particularly strong and beautiful. These were instruments for visiting the lasses at night – they won't fall apart or get soaked. Others accordion makers used Teppo's as a prototype and the term 'Teppo accordion' is used to indicate that type of instrument. August and the menfolk of the following generations were all excellent accordionists (piece 114).
The dialectologist Hella Keem performed the songs of Ann Rammo (1864–1939) one of the best story tellers and singers of regilaul from Põlva Parish for this collection (pieces 56, 62). Hella Keem wrote down the texts of the songs from Ann Rammo in 1937 while on an expedition to collect dialect material in the village of Adiste in the community of Koiola. In 1938 Paul Ariste also recorded Ann's stories and songs onto records.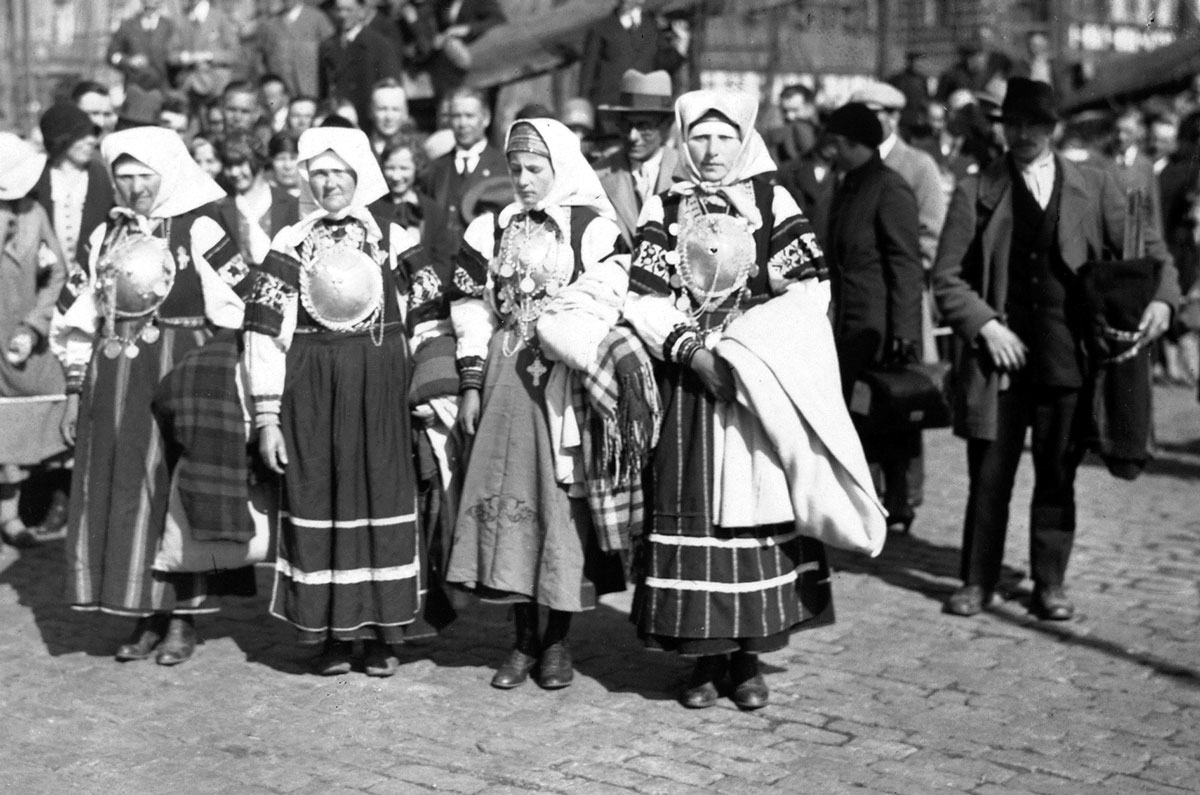 Setumaa
In the Setu region the old style of singing was able to adapt to changing times and survived as a living tradition right to the beginning of the 21 century. The name of Anne Vabarna (1877–1964) had become one of the symbols of the Setu song culture. Anne was born in the village of Võporsova on the shores of Lake Peipus. At the age of 19 she got married and moved to the village of Tona near Värska, where she had altogether nine children. She became famous as a singer in the 1920's and from the 1930's she performed outside the Setu region; all across Estonia on the excursions of folk musicians that August Pulst organized, in Finland and after the Second World War in Moscow as well as numerous times in Tallinn. Anne herself was uneducated but her endless trove of songs, fairy tales, and other folklore were written down by her children as well as many professional collectors of folklore. Altogether almost 6000 pages of texts have been recorded from her. Anne also created many narrative verses including the epic poem about the Setu King, Peko. She was also adept at improvising on all manner of themes. Anne's songs have been repeatedly recorded. The ones in this collection were recorded in 1936 at the National Radio and during the 1959 collecting expedition of the Literary Museum and Estonian Radio. Here singing with her are her daughters Matrjona (Mato) Suuvere and Natalia (Nati) Vabarna and her daughter-in-law Varvara (Varu) Vabarna (pieces 7, 10, 31, 37, 39, 50–54, 75, 88, 89).
Sido Nikit and his son Nikita Vassil were living in the village of Kiiova in the community of Petseri (later Meremäe) when Armas Otto Väisänen visited them in 1913. At the age of 46 Nikit was recorded playing the buckhorn and Vassil, at the age of 13 recorded two pieces on the herder's horn. Väisänen has written in his field notes that even though at their meeting Nikit had talked about being off to work, not once did he make any attempt to leave, he merely kept on playing. Nikit squinted as he blew his horn, his feet raced to keep time and his whole body swayed to the rhythm of the music. When he heard his own playing on the phonograph he jumped to the floor and started dancing.
Janika Oras