EKM Teaduskirjastus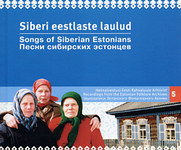 Autor: Anu Korb
ISSN/ISBN: ISSN 1736-0528
Ilmumisaeg: 2005
http://www.kirmus.ee/Asutus/Valjaanded/raamatud05/siber.php
2 CD-d + tekstiraamat 178 lk

Koostanud: Anu Korb
Toimetanud: Kadri Tamm, Ergo-Hart Västrik, Andres Roots (ing. k. tekstid)
Kujundanud: Hele Hanson-Penu
Helirezii ja CD-master: Jaan Tamm
Tartu 2005


Siberi eestlasteks peetakse nii 18.-19. sajandil Vene tsaari poolt väljasaadetute kui 19. sajandi viimasel kümnendil ja 20. sajandi algupoolel väljarännanute järglasi. Plaadiantoloogia sisaldab Siberi eestlaste laule ja mõnd pillilugu, mis on salvestatud Eesti Rahvaluule Arhiivi Siberi ekspeditsioonidel aastatel 1991-2000. Laulud on plaatidel järjestatud külati, et piirkondlikke laulutraditsiooni iseärasusi paremini esile tuua. Kogukonna repertuaari esindavad piirkonnas populaarsemad ja iseloomulikumad eestikeelsed laulud. Tekstiraamatust saab ülevaate Siberi eestlaste asustusloost, laulutraditsioonist ja tähtsamatest laulikutest-pillimeestest. Väljaandesse on lisatud fotod, plaatidel leiduvate laulude sõnad, allikaviited ja registrid.



CD 1: Ülem-Suetuk = Verhnij Suetuk = Верхний Суэтук: 1. Kui mina ükskord metsas kõndsin = Once that I walked inside the forest = Когда я однажды по лесу гуляла. 2. Puhkan teie keskel = I rest here among you = Покоюсь среди вас. 3. Minu südames on imetundlik vägi = In my heart there is a mighty tender power = В сердце моем нежная страсть. 4. Armas piiga, ära nuta = Dearest maiden, don't you cry now = Милая девица, не плачь. 5. Sõitsin uhke saaniga = In a splendid sleigh I rode = Еду я в шикарных санях. 6. Vares vaga linnukene = Crow, that meek and humble bird = Ворона покорная птица. 7. Poiss Tutulinna külast = A Tutulinna village lad = Парень из Тутулинна. 8. Kust on tulnud moodike = Whence this fashion did evolve = Откуда пошла мода. 9. Kui lauba õhta jõudis = As Sat'day eve came fallin' = Когда наступил вечер. 10. Pisikene korv oli ukse ees = Wee basket right before the door = Маленькая корзина у двери. Ülem-Bulanka = Verhnjaja Bulanka = Верхняя Буланка: 11. Sõbrad ühes meiega = Come friends and let us = Друзья, сядем с нами. 12. See elu, mis meil edeneb = This life that keeps on pushing on = Жизнь, что у нас ладится. 13. Hommikul, kui päikene tõuseb = Morning while the sun is rising = Утром, когда солнце встает. Rõžkovo = Ryžkovo = Рыжково: 14. Igavuses elan mina = I am living bored and lonely = В печали живу я одна на чужбине. 15. Olin noor ja noorukene = I was young and just a wee lad = Был я молод-молоденек. 16. Oh ma vaene, miks ma läksin joodikule mehele = O poor me, now why did I wed a drinking man = Ох, я бедная, зачем вышла замуж за пьяницу. 17. Ära tapa, mehekene = Don't you kill me, my dear husband = Не убивай, муженек. 18. Maria oli kihvti joonud = Maria she had drunk the poison = Мария отравилась. 19. Ühes väikses kasakakülas = In a little cossack village = В одной казацкой деревушке. 20. Me lähme luba küsima = We're gonna ask to be allowed = Мы идем просить дозволения. 21. Oh, ütle, kena neiuke = O tell me, maiden fine and fair = Ох, скажи, красавица. 22. Kuningal oli kolm tütart = The king he had three daughters = У короля было три дочери. 23. Kikas ütles kanale = The rooster once the hen did ask = Петух спросил у курицы. 24. Oh, oleks minu olemine = O if it all was up to me = Ох, было б у меня житье. Kovaljovo = Kovalevo = Ковалево: 25. Jalg sul tasemalle sammub = Your feet are treading softer now = Нога твоя ступает тише. 26. Ära mine minust mööda = Do not pass me by = Не проходи мимо меня. 27. Oma ema-isa süles ma = In my ma's and father's lap = В объятиях родителей. 28. Ma Liisa pehmes süles = In the tender lap of Liisa = Я у Лийзы в мягких объятиях. 29. Oru Leeni ilus neiu = Oru Leeni, pretty maid = Ору Леэни - красивая девушка. 30. Kallimale tahtsin ma = From my lover I did try = Милую хотел я поцеловать. 31. Kabala kõrtsus karjus Kadri = Kadri cried out in Kabala inn = В кабаласком кабаке кричала Кадри..
CD 2: Kaseküla, Liliengof = Berezovka, Liliengofka = Березовка, Лилиенгофка: 1. Ilus poiss küll olen ma = A handsome lad I am and yet = Парень - то я красивый. 2. Mina istsin õues ukse ees = Sittin' in the garden by my door = Я сидела во дворе перед дверью. 3. Kui ükskord oli ilus ilm = Once we had a weather fine = Однажды была ясная погода. 4. Kaks neiut metsa kõndma läks = Two maidens walking in the woods = Две девушки пошли гулять в лес. 5. Sõitsin üle soome silla = Rode across the Finnish bridge = Ехал я через финский мост. 6. Vene lõõts: Krakovjakk = Russian accordion: Cracovienne = Хромка: краковяк. 7. Väikses vaikses Rakvere linnas = In the small and quiet Rakvere town = В маленьком тихом городе Раквере. Jurjevka = Jur'evka = Юрьевка: 8. Ühes suuremas Varssavi jaamas = In a grander Warsaw station = На одном большом вокзале в Варшаве. 9. Juba tornikellad löövad = The tower bells are ringing = Уже колокола звенят. 10. Sa tige röövel saare peal = You wicked bandit on the isle = Ты, злой разбойник с острова. 11. Tere õhtust, sina vana mölder Mats = Good evening, you old miller Mats = Добрый вечер, старый мельник Матс. 12. Minu kell tegi taskus tiks ja taks = The watch in my pocket went tick and tock = Мои часы в кармане протикали тик-так. 13. Oh laevuke, sõua = O paddle, ye ship = Ох, кораблик, греби. Oravaküla, Nikolajevka = Oravka, Nikolaevka = Оравка, Николаевка: 14. Terve küla seda näeb = The village sees it, one and all = Вся деревня это видит. 15. Mike Mari Idaga = Mike Mari, Ida too = Микеские Мари с Идой. 16. Selle Reinijõe kalda peal = On the banks of the river Rhine = На берегу Рейна. 17. Mis viibid, neiu, mures = What grieves you, pretty maiden = Что тоскуешь, девица. 18. Kui teaksivad lilled-puud = If just the trees and flowers knew = Если б знали цветы и деревья. 19. Mis nutad sa, neiu = What cry you, o maiden = Что ты плачешь, девушка. 20. Tere õhtust, armas tütarlaps = Good evening, dearest maiden fair = Добрый вечер, милая девушка. 21. Oh emake, õnnetu, vaene = O mother, so troubled and sad = Ох, мамочка, бедная, несчастная. Zolotaja Niva = Золотая Нива: 22. Mu rahukamber valmis = My resting chamber ready = Моя мирная келья готова. 23. Jumalaga, üksik talu = Farewell, my lonesome farm = Прощай, одинокий хутор. 24. See oli suurel sõja aal = In the times of that great war = Это было во время великой войны. 25. Tartumaa linnas juudituru peal = At a Jewish market in a Tartumaa town = В городе Тарту на еврейском базаре. 26. Vene lõõts: Põdrajaht = Russian accordion: The moose hunt = Хромка: охота на оленя. Estonka, Lillikülä = Estonka, Lilejka = Эстонка, Лилейка: 27. Üks vana ja üks vaene mees = An old man and a poor man, too = Один старый и бедный мужик. 28. Mu neiuke paha ja nukker kui nutt = My lady so evil and sad as a sigh = Моя девушка злая и грустная. 29. Sõitsin, sõitsin Lillekülla = Rode, I rode to Lilleküla = Ехал я, ехал в Лилейку. 30. Kaks armastajat trehvasid = Two lovers in the woods did meet = Двое влюбленных встретились в лесу. 31. Kell oli kümme löönud = The clock struck ten already = Часы пробили десять. Tsvetnopolje = Cvetnopol'e = Цветнополье: 32. Kui tuled sa, too kaasa valgeid lilli = When you will come, white flowers you shall bring me = Когда ты придешь, принеси белых цветов. 33. Kui mina alles noor veel olin = Once when I was still a young man = Когда я был еще молодой. 34. Seal Aafrikas, Ameerikas = In Africa, America = Там в Африке, Америке.
Varem ilmunud:
2004
Helisalvestusi Eesti Rahvaluule Arhiivist 4
2003
Helisalvestusi Eesti Rahvaluule Arhiivist 3
Helisalvestusi Eesti Rahvaluule Arhiivist 2
2001
Helisalvestusi Eesti Rahvaluule Arhiivist 1