Demnime Kosterkin (1926-1980)
In his initiatory vision Demnime wandered alone quite a long time. After he had reached the tent with nine doorways he thought: "I can't go ahead alone. Certainly I'll obtain some helpers." He listened that in the direction of the sun some men or gods were talking in the sky. There was big fire near them. "They will help me," Demnime thought. He stopped near the tent's door. One of celestial beings fell down. Demnime looked back: somebody like a little white girl walked there. A feminine voice told him: "Unriddle what door it is and how it will opened." Demnime didn't know what to answer. Handsome sungirl told from the sky: "Tell her that in autumn when the water first time will get frozen, people will freeze too. Many people will freeze and die in the water. Let the water will take not so many people. First lock, it is water and ice."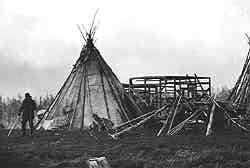 Demnime in front of his tent near Ust-Avam village. Photo (54K) by A. Lintrop 1977.

In the spring of 1968 Demnime met with an accident:

while crossing Dudypta river at the time when the ice broke up, he lost his leg. Afterwards there had been told that this happened because Demnime had lost his way the year before the accident when he, while shamanising, had not went by the path told by spirits. "In spring when the ice just set about broke up, he didn't went toward the water. The god whom Demnime was subordinated to, told him to go, but near the right path an other one was lying, the dead man's one, the one of setting sun. The sun and the moon misguided him. They allured him to the wrong path. There were too small audience on the rite, but the path Demnime went by was the darkest one. If there had been more onlookers on the séance, especially the old ones, they might have helped him."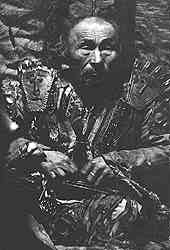 Demnime Kosterkin. Photo (46K) by A. Lintrop 1977.
In 1977 the Estonian movie team leaded by Lennart Meri visited Demnime in his tent near Ust-Avam village. For the guests a small séance was got up by Demnime. During the rite he summoned some of his helping spirits and introduced his visitors to them. The rite ended with divination. Some pieces of the material shot in the course of the rite were used in movie picture 'Winds of the Milky Way' (1977).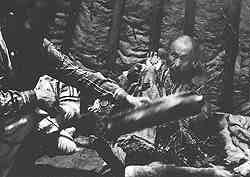 Before the séance. Dulsymyaku, the son of Demnime, is dryimg the drum on the hearth. Photos (63K and 62K) by A. Lintrop 1977.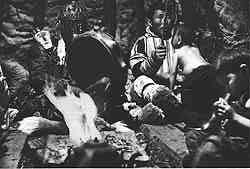 Demnime is shamanising. His son Dulsymyaku is assisting him. Photo (68K) by A. Lintrop 1977.
---